…Can't fault them for trying. This is NOT a hoax or fan-made replica: Nintendo is actually releasing a special Mini NES console for $60, which will be released on November 11. It will comes with 30 preloaded games, all with the Save State Feature from the Virtual Console. You will notice the port for the Mini NES looks different from the originals: The Mini NES Controllers can be connected to a Wii Remote so you can play VC NES games with the retro controllers if you want. It also comes with an HDMI Cable so you can connect it to your flatscreen TV.
Nintendo confirmed the Mini NES will come with the following games:
Balloon Fight
Bubble Bobble (Taito)
Castlevania (Konami)
Castlevania II: Simon's Quest (Konami)
Donkey Kong
Donkey Kong Jr.
Double Dragon II: The Revenge (Konami)
Dr. Mario
Excitebike
Final Fantasy (Square-Enix)
Galaga (Atari)
Ghosts'N Goblins (Capcom)
Gradius (Atari)
Ice Climber
Kid Icarus
Kirby's Adventure
Mario Bros.
Mega Man 2 (Capcom)
Metroid
Ninja Gaiden (Techmo)
Pac-Man (Atari)
Punch-Out!! Featuring Mr. Dream
StarTropics
Super C
Super Mario Bros.
Super Mario Bros. 2
Super Mario Bros. 3
Tecmo Bowl (Techmo)
The Legend of Zelda
Zelda II: The Adventure of Link
…Overall, I give the list a 7/10.
There are a number of omissions from the list that prevent me from giving it a perfect 10, most of which can be bought from the Wii/Wii U version of the Virtual Console. The big X-factor not yet known is if you will be able to add games to it. Even so, the list is good enough for me to buy the Mini NES for my niece and nephew for Christmas =O
I would consider buying one for myself if it also came many of the following games:
Contra
Double Dribble
Tennis
Baseball
Golf
Operation Wolf
Tetris
Yoshi
Yoshi's Cookie
Teenage Mutant Ninja Turtles
Teenage Mutant Ninja Turtles II: The Arcade Game
Metal Gear*
River City Ransom
Crash & The Boys: Street Challenge
Mega Man
Mega Man 3
Xevious
Life Force
Kung Fu
Knight Rider*
Spy Hunter
Q-Bert
The Legend of Kage
RoboCop*
Duck Tales*
Track & Field
Othello
Little Nemo*
Arkanoid
Friday the 13th*
Paper Boy
* Denotes a possible licensing issue for Nintendo
Note the marked games: Of them, I think Nintendo could get cleared to re-release Duck Tales and Metal Gear. The rest, I don't know. The vast majority of the other games have all been released on either the Virtual Console, Android/iOS, Xbox Live or the Playstation Network. I assume licensing for the third party titles in the final list is part of why it costs that much–I'd have priced it at $40 personally.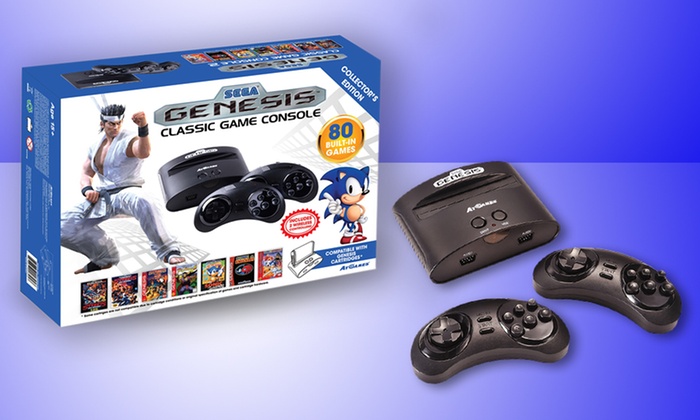 AtGames is releasing this retro Genesis–presumably in collaboration with Sega. I say that given Sega was the company that announced this a few weeks ago. It works the same as its NES counterpart only the controllers are wireless and you can use physical cartridges with. it also comes preloaded with some of Sega's most popular mobile games, which are a part of the 80 it comes with.
Here is the full list.
Alex Kidd in the Enchanted Castle
Alien Storm
Altered Beast
Arrow Flash
Bonanza Bros.
Chaka: The Forever Man
Columns
Columns III
Comix Zone
Crack Down
Decap Attack
Dr. Robotnik's Mean Bean Machine
Ecco the Dolphin
Ecco 2: The Tides Of Time
Ecco Jr.
ESWAT: City Under Siege
Eternal Champions
Fatal Labyrinth
Flicky
Gain Ground
Golden Axe
Golden Axe II
Golden Axe III
Jewel Master
Kid Chameleon
Ristar
Shadow Dancer: The Secret of Shinobi
Shinobi III: Return of the Ninja Master
Streets Of Rage 1
Streets Of Rage 2
Streets Of Rage 3
Sonic & Knuckles
Sonic Spinball
Sonic the Hedgehog
Sonic the Hedgehog II
Sonic 3D Blast – Flickie's Island
The Ooze
Vectorman
Vectorman II
VirtuaFighter II
Additional Games courtesy of the manufacturer, AtGames:
Cross the Road
Jack's Pea
Jewel Magic
Curling 2010
Fish Story
Mahjong
Warehouse Keeper
Chess
Memory
Snake
Air Hockey
Spider
Naval Power
Mr. Balls
Cannon
Fight or Lose
Bottle Taps Race
Bomber
Checker
Hexagonos
Reaction Match
Whack-A-Wolf
Mirror Mirror
Memory Match
Treasure Hunt
Fire Fly Glow
Panic Lift
Black Sheep
Space Hunter
Flash Memory
Table Magic
Color Puzzle
Brain Switch
Mega Brain Switch
Bulls and Cows
Logic Dial
Match Eleven
Formula Challenge
Sudoku Quiz
Dominant Color
…No, I didn't recognize any of the games from the second list either. I get the manufacturer trying to get a return on its investment but damn. Rather than throw in random games those of us who gew up playing the original Genesis don't care about, they should have included most of the games on the following list instead:
Shining Force
Shining Force II
Sonic 3 & Knuckles
Knuckles in Sonic 2
Blue Sphere (Sonic 3's Special Stage as a standalone game)
NBA Jam*
NBA Jam Tournament Edition*
Jordan vs. Bird*
Shaq Fu
Coach K College Basketball*
Michael Jackson: Moon Walker*
Mortal Kombat
Mortal Kombat II
Mortal Kombat 3
Aladdin*
The Lion King*
Phantasy Star II
Phantasy Star III
Phantasy Star IV
Outlander
Afterburner
Steel Talons
The Majors Pro Baseball*
Arch Rivals
Madden 94*
NBA Live 94*
Eternal Champions
Street Fighter II: Special Champion Edition
Super Street Fighter II
Wardner
* Denotes a possible licensing issue for Sega
The MLB and NBA titles might not actually need permission from the leagues, who knows. Arch Rivals is licensed by Midway, which you may recall was the original license holder for the Mortal Kombat series (now owned by NetherRealm Studios). I don't see the Capcom having much of an issue with allowing them to include the Genesis versions of Street Fighter II I listed. Disney could also greenlight Aladdin and The Lion King.
Sega does need to quit being cheap/lazy and just make sure to include all the games of the same series they do own the right to in future bundles–it makes no sense to include Sonic 1-3 but not Sonic 3K for example. Phantasy Star II and III are often packaged together but IV is often left out. Don't even get me started on Shining Force I and II. LOL. That said, the fact that it is compatible with physical Genesis cartridges is a nice bonus.
…Oh, yes they did! There is a portable version of the device and it's become super-popular with those with certain kinds of knowledge. I'll put it this way: The portable version comes with an SD Card Slot and prettymuch says "Using the SD Card, you can download Genesis games to play on the handheld". Yes, ROMs. Weather or not Sega was aware this was a possability when they signed off on it is anyone's guess but yeah: You can legally purchase a portable Genesis Emulator for just $60. LOL, WHOOPS!
Taking that into consideration, the portable version has slightly more value despite the lack of 2-player. It has the same library as the console version so it's a matter of screen size I guess. Lately, I just prefer portable gaming. I'd probably buy the console version for my niece and nephew, though.
Save