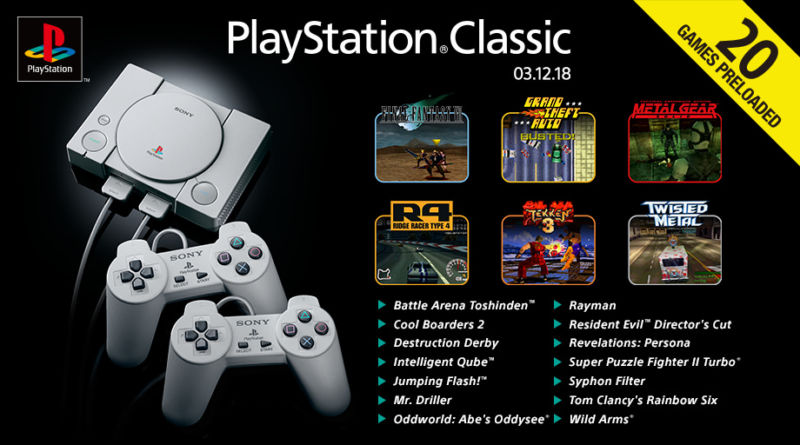 …As a reminder, it launched 8 months ago and sold for $100. The price now? $20 at Best Buy, Wal Mart, Target and Amazon.
Here's the full list of preloaded games for those who are probably looking it up right now or should be:
Battle Arena Toshinden
Cool Boarders 2
Destruction Derby
Final Fantasy VII
Grand Theft Auto
Intelligent Qube
Jumping Flash
Metal Gear Solid
Mr Driller
Oddworld: Abe's Oddysee
Rayman
Resident Evil Director's Cut
Revelations: Persona
Ridge Racer Type 4
Super Puzzle Fighter II Turbo
Syphon Filter
Tekken 3
Tom Clancy's Rainbow Six
Twisted Metal
Wild Arms
…I STILL own a physical copy of Final Fantasy VII and Metal Gear Solid even though I no longer have a PS1 console. Of course, I also have digital copies of both games (plus the Gamecube remake of MGS). $20 for 20 games is a steal. ONE of those two games is worth the money but both for $20 plus 18 other games? Madness to pass this up even if you're a Nintendo or Microsoft fan.
In addition to the games, the console cames with an HDMI Cable and two wired controllers. The original PS1 used Wired Controllers and you didn't see Wireless Controllers in the Playstation family until late in the Playstation 2's lifespan (It was 100% Wireless from the PS3 onward). It also comes with a Virtual Memory Card, which basically means you don't need a physical memory card to save your progress. For those with a PS3 or Vita who may be looking to buy and download all of these games, you will need at least $200 which is more than the original price of $100.
The PS Classic is a sample of the best of Sony's first Playstation console.
One can't help but note a few significant omissions I would've liked to have seen included:
Grand Theft Auto II
Metal Gear Solid: VR Missions
Gran Tourismo
Gran Tourismo 2
Resident Evil 2
Twisted Metal II
Tekken 2
Tomb Raider
Tomb Raider 2
Crash Bandicoot
Crash Bandicoot 2
Cool Boarders
Driver
Suikoden
Suikoden 2
Chrono Cross
Final Fantasy Tactics
Final Fantasy Origins (FF1 and FF2)
Final Fantasy Anthology (FFV and FFVI)
Final Fantasy Chronicles (FFIV and Chrono Trigger)
…LOL I realized after the fact this is anorher list of 20 games!
Anywho like I said, FFVII and MGS alone are worth getting this for if you never played them before. MGS2 and MGS3 were released on the PS2 while MGS4 was released on the PS3. MGSV–Ground Zeroes and Phantom Pain–were released on the PS4. FFVIII and FFIX were also released on the PS1 along with Final Fantasy Tactics. FFX (and its sequel FFX-2) and FFXII (its sequel Revenant Wings was released on the Nintendo DS) were released on the PS2 (FFXI was an MMORPG released only in Japan). FFXIII (and its two sequels) was released on the PS3 and Xbox 360. FFIX (MMORPG) and FFXV were released on the PS4 and Xbox One.
Such a deep history from just those two titles!
Gran Tourismo, Tomb Raider and Crash Bandicoot are three HUGE omissions but I do think they were left off to keep the price down. I don't think the PS Classic would be $20 right now if those three games were included. If you wanna play any of the games on my wish list you can but you will need a PS3 or a Vita since they are all digital on the Playstation Network. FF1, FFII, FFIII (the real FFIII), IV (as well as its sequel, The After Years), V and VI can all be bought from the Playstation network separately via the PSN.
Oh and yeah I do think Sony considered their attempt to get in on the Mini Retro Console bandwagon may be a failure. I think it's salvagable and more so if Sony decides to make a PS2 Classic and PSP Classic respectively.
If you have enjoyed this post or other posts I have made on this blog, please consider making a monetary donation via PayPal. Whatever amount you can provide would be greatly appreciated.
…To date, no donations have come in since I started including this in my posts across all of my blogs. I am now asking those who have especially come to enjoy my postings no matter how long it's been to please donate. Without going into all the details here, I need your fiancial support. If you're able donate but want to talk to me first, you can email me at btboston1@gmail.com.